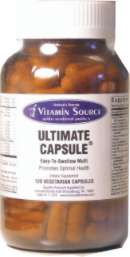 Ultimate Multi Vitamin Capsule
High Potency Multivitamin Capsule and Mineral Combination in only 2 Capsule per Day.
Ultimate Multivitamin Capsule:
Is an excellent high potency, two a day vitamin in an easy to swallow capsule.
High potency complete multi vitamin & mineral.

Easy to swallow vegetarian capsules.

Complete two a day vitamin and mineral formula.
Ingredients in the Ultimate Multivitamin Capsule:
Includes all the essential vitamins and minerals also contains additional essential nutrients, such as bioflavonoids, rutin, chlorophyll, betaine HCL and glutamic acid. We have also added trace elements of vanadium, boron and molybdenum.

Bioflavonoids: Also referred to as vitamin P, a name that nutrition scientists object to because it has not been proved that they are essential to human nutrition and health. Many researchers are studying bioflavonoids and many reports have been given about their possible functions.

Rutin: Used to treat poor blood circulation, hemorrhoids, and Meniere's disease. It may also be used to treat varicose veins or skin bruising. Other names for Rutin include: Bioflavonoid, Citrus bioflavonoid, Oxerutin, and Rutoside

Chlorophyll: A natural plant pigment that lends its color to grass, leaves, and many of the vegetables we eat, may play an important role in prevention of certain cancers. Researchers in the early 1980s discovered that chlorophylls and related chemicals can inhibit the ability of certain DNA-damaging chemicals to cause mutations in bacteria.

Glutamic Acid: is important in the metabolism of sugars and fats, and aids in the transportation of potassium into the spinal fluid and across blood-brain barrier. Although it does not pass the blood-brain barrier as readily as glutamine does, it is found at high levels in the blood and may infiltrate the brain in small amounts. The brain can use glutamic acid as fuel.

Betaine hydrochloride: is an acidic form of betaine, a vitamin-like substance found in grains and other foods. Betaine hydrochloride is recommended by some doctors as a supplemental source of hydrochloric acid for people who have a deficiency of stomach acid production (hypochlorhydria).

Whole Food Concentrate: For additional whole food concentrate this multivitamin may be used in combination with whole food vitamins this combination will give you the best of both worlds, controlled intake of vitamin doses and the vital whole food ingredients.

Testimonials:
"My favorite vitamin now that it is in capsule. I find it easier to swallow the vegetarian capsule".
P. Gibson PA USA

Guarantee:
We guarantee this supplements for potency and purity of our multivitamins.
Ultimate Multivitamin Capsule
120 veg capsules : 12043 : $ 52.13


$ 31.28


Safety Notes: Accidental overdose of iron contain products is a leading cause of fatal poisoning in children under 6. Keep this product away from children.





Back to the main page for more multi vitamins