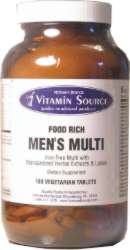 Man's Multivitamin Supplement
Food Rich Multivitamin and Mineral Combination.
Food Rich Men's Multivitamin Supplement :
Specially formulated for the nutritional needs of men. Contains lycopene, saw palmetto and high levels of zinc.
Food rich indigents and iron free formula.

With lycopene, saw palmetto and zinc.

100% vegetarian tablets.
Ingredients in our Man's Multivitamin :
A perfect blend of vitamins, minerals, lycopene, saw palmetto, zinc, food ingredients, plant pigments, amino acids, herbs and whole foods that include tomato powder extract, Lutein and more.

Lycopene: A carotenoid found in tomato products, prevents oxidation of low density lipoprotein (LDL) cholesterol and reduces the risk of developing atherosclerosis and coronary heart disease according to a recent study published in the October 1998 issue of Lipids (Agarwal, S., and Rao A.V.; Tomato lycopene and low-density lipoprotein oxidation: a human dietary intervention study. Lipids, 33, 981-984 (1998).

Saw Palmetto: Contains certain phytosterols, substances that seem to curb prostate cell growth. The fat-soluble extract of the saw palmetto berry is the most well studied, well known, and widely used natural herbal prostate supplement for supporting prostate health. A 3-year study in Germany showed signs that saw palmetto extract significantly promoted prostate health in 73% of the participants. In Germany, other studies have tended to support the effectiveness of saw palmetto.

Amino Acids: Are the building blocks of protein. Protein has an important job in building and rebuilding body tissue and providing the body with nitrogen, an essential element for all living beings. There are both essential and nonessential amino acids. Essential amino acids must be obtained from the diet; nonessential amino acids are made by the body. Here are lists of the essential and nonessential amino acids.

Zinc: is an essential mineral that is found in almost every cell. It stimulates the activity of approximately 100 enzymes, which are substances that promote biochemical reactions in your body. Zinc supports a healthy immune system, is needed for wound healing, helps maintain your sense of taste and smell, and is needed for DNA synthesis.

Lutein: a carotenoid found in plants, is another important nutrient shown to help support eye health. The average American diet provides only 823 mcg of lutein. Lutein is an antioxidant or carotenoid found in large concentrations in the eye. Research shows that lutein intake through diet and supplementation correlates directly to the amount of lutein found in the macula of the eye. Lutein protects the eye by blocking harmful blue light rays. Studies show that those who have adequate levels of lutein in the body are more likely to have healthy eyes, and reduct the risk of suboptimal eye health. Our product contains FloraGLOŽ lutein which is obtained naturally from the marigold extract and is a proven, purified source of lutein.

Whole Food: The Mens Multivitamin may be used alone or combined with whole food vitamins. This combination will give you the best of both worlds, controlled intake of vitamin doses and the vital whole food ingredients.

Testimonials:
"I like the way you have combined some of the ingredients for my prostate health in one multi, thanks"
J. Walkun ND USA

Guarantee:
We guarantee this supplements for potency and purity of our multivitamins.


Man Multivitamin Supplement
180 veg tablets : 11849 : $ 49.65


$ 29.79


Safety Notes: Accidental overdose of iron contain products is a leading cause of fatal poisoning in children under 6. Keep this product away from children.





Back to the main page for more multi vitamins