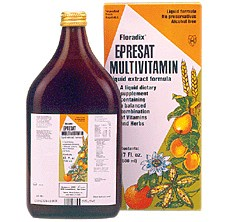 Liquid Multi Vitamin
Natural Vitamins for your daily servings of Vitamin, Mineral and Enzyme Rich Whole Foods.
Flora Liquid Multi Vitamin:
A great tasting complete natural liquid vitamin and mineral supplement you and your family will ever use. No preservatives, artificial flavors have been added.

Synthetic Vitamins verse Whole Food Vitamins:
Most brands of supplements available today are made from synthetics These "vitamins" are chemical compounds that have been manufactured in laboratory to copy the molecular structure of natural vitamins. Your body is designed to absorb nutrients from food. For this reason most health experts agree that it is best to obtain your daily vitamin supplement from whole food, (real food) than from synthetic vitamin sources.

Increase your whole food intake:
Less than 10% of Americans consume the recommended 6 to 8 servings of whole grains, nuts, seeds, fruits and vegetables per day. The modern trend is to skip whole foods, consume refined and processed foods and supplement with synthetic vitamins. We believe this is not the best advise for long term natural health. Increase your daily intake of vitamin, mineral and enzyme rich nuts, seeds and whole grains and use the power of nature the way it was intended with a complete whole food vitamin supplements with all natural vitamins, minerals and enzymes.
An all natural concentrate of fruit juices and herbs.

Flora liquid multivitamin with ten essential vitamins.

Also contains calcium and vitamin D for bones.
Ingredients in the Liquid Multi Vitamin:
A great tasting complete natural liquid vitamins and mineral supplement you and your family will ever use. May be used in combination with the super green food formula or whole food vitamin.

Essential Vitamins: A liquid multivitamin that contains 10 essential vitamins.

Essential Minerals: Includes calcium and Vitamin D and is the best choice for those who have difficulty breaking down or absorbing solid vitamins.

Liquid Vitamins: offer the maximum absorption rate since they do not need to be broken down and are immediately available to the body. An all natural concentrate of fruit juices and herbal extracts that contains no preservatives, no artificial flavouring, no binders or fillers.

Whole Food: Although made from 100% whole food. You may want to combine with a raw whole food vitamin. This combination will give you the best of both worlds, a liquid intake of vitamins and the vital raw whole food ingredients.

Testimonials:
"Tried it as an alternative to the many liquid vitamins that have preservatives and synthetic vitamins. Tastes great, now got the kids and husband on to it"
O. Thompson NJ USA
Flora Liquid Multi Vitamin
250ml/ 8.5 fl oz : 24788 : $ 31.25


$ 29.95





Back to the main page for more multi vitamins