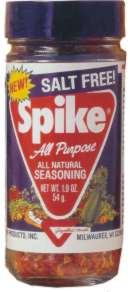 Spike Salt Substitute
Made from herbs, spices and vegetables.
A salt FREE! salt substitute : made from a selected blend of 37 quality herbs and vegetables. Spike is ideal for people on salt free diets such as people that suffer from high blood pressure or similar health related problems.
A salt FREE salt substitute condiment.

With 37 quality herbs and vegetables.

Healthy and adds flavor to almost any dish.
The Herbal Spike Salt Substitute Formula: The natural salt free Spike is a carefully selected balanced blend of natural ingredients from the four corners of the earth. Salt Free Spike is a sensational salt alternative flavor that will turn all your meals into gourmet delights. Put an end to the bland and tasteless foods.

A natural salt substitute: that is terrific on salads, sauces, stews, meats, eggs, cottage cheese, pizza pies, barbeques, vegetables, dressings, dips, popcorn and tomato drinks.

Ingredients: Defatted soy, onion, orange crystals, nutritional yeast, garlic, celery, dill, horseradish, lemon peel, mustard, orange peel, parsley, white pepper, turmeric, green and red bell peppers, rosehips, summer savory, mushrooms, safflower, coriander, fenugreek, basil, marjoram, oregano, thyme, tarragon, cumin, ginger, cayenne pepper, cloves, spinach, rosemary, cinnamon, paprika, tomato and stevia.
Questions & Answers:
Q : May I use Spike to reduce may sodium intake?
A : Yes this is ideal way to eliminate salt in your diet to help reduce your sodium intake.

Q : Is this product gluten free?
A : Yes the manufacturer has stated that it is gluten free and salt free.

Testimonials:
"Although it is not as salty as normal sea salt, I find it gives dishes more flavor. Allot better than eating with no salt at all"
M. Anderson NJ USA

Spike Salt Substitute
1.9oz / 54g shaker bottle : Code 6000007 : Price $ 3.02
Sale Price $ 2.87
Back to top of page

Back to the main page for more natural health foods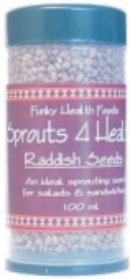 Sprouting Seeds
Use Sprouting Seeds For Raw Foods : are super rich in many vitamins, minerals and enzymes. Alfalfa, Fenugreek, Mustard and Radish are what most people think of when they think of sprouts. Tender yet crisp these tiny little plants are to many bland in flavor ...more info on alfalfa, fenugreek and mustard
Excellent source of raw food enzymes.

Super rich in vitamins, minerals and nutrients.

Grow them organically in your kitchen!
Radish Sprouting Seeds
100ml +- 200g : Code 57326 : Price $ 7.25
Sale Price $ 6.95
Visit the Sprouting Seeds page for ...more info




Back to top of page